Special Mechanical Engineering
Precision Mechanics
Soluxx can provide your laboratory with all kind of custom made mechanical accessories. We are able to process a wide variety of raw materials (steel, plastics, teflon®, ...) with high precision. Whenever there is no standard solution for your problems, we can help you.
Special Equipment & MR compatibility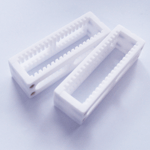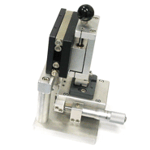 Over the years Soluxx has gained widespread expertise in precision mechanics and electronics and has produced a wide variety of special measurement equipment. In addition, Soluxx is capable to fabricate MR-compatible, non-magnetic gear for medical applications.
3D-movement
IO-interfacing (sensors, motors, actuators, etc.)
low-level and GUI programing
high precision
MR compatibility (medical equipment)
Measurement Accessories
Soluxx has outstanding experience in the fabrication and measurement of devices. Thus, we can offer sophisticated and easy-to-use equipment tailored to your demands.
shadow masks with sample holders (CVD, PVD, ...)
sample mounts with electrical contacs for electrical measurements
sample storage & transport
air-proof containers
ITO/Glass-Substrates
...
Examples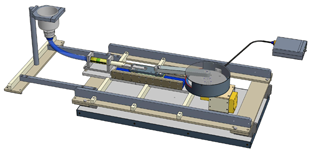 MRI movement phantom: A moving phantom for MRI has been designed and built according to customer specification. The special challenge in this case was the MR-compatibility of all components and the fabrication of a tailor-made MR-compatible compressed air motor. The apparatus is currently used in the research department of the university hospital Cologne.
BCIRA measurement apparatus for molding sands: A measurement apparatus for BCIRA-tests of moulding sands has been designed and constructed according to customer specifications. The tasks included interfacing and programming of the end-user GUI. This equipment is currently used by the Quarzwerke GmbH in Frechen.
ESD-coating apparatus: A coating machine for high performance coating ESD (electrospray deposition) has been designed and built according to customer specifications. This project included the fabrication of a 3-D-automated moving stage and low-level and high-level programming tasks of all necessary driver components and end-user GUI. The machine is used by the ZOEK gGmbH in the COPT-Center in Cologne.
If you are interested in our services please contact us.