Accessories & Consumables
Substrates
We offer different types of substrates for your research. While the thickness is fixed at 1mm, the square footage can be customized to your needs. Our substrates are cleaned with four subsequent steps and delivered ready to use.
bare glass
ITO coated glass
ITO coated glass with structure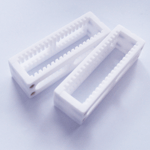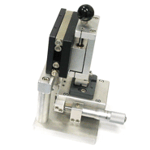 Precision Mechanics
Soluxx can provide your laboratory with all kind of custom made mechanical accessories. We are able to process a wide variety of raw materials (steel, plastics, teflon®, ...) with high precision. Whenever there is no standard solution for your problems, we can help you.
Measurement Accessories
Soluxx has outstanding experience in the fabrication and measurement of devices. Thus, we can offer sophisticated and easy-to-use equipment tailored to your demands.
shadow masks with sample holders (CVD, PVD, ...)
sample mounts with electrical contacs for electrical measurements
sample storage & transport
air-proof containers
...
If you are interested in our services please contact us.