Coating Technology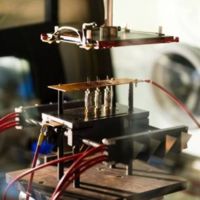 High-performance coating technolgy is one of the key issues in industrial production of organic electronic devices. Ultra-thin and ultra-smooth films are needed.
With our self-developed technology we are one of the worlds leaders in electro-spray-deposition (ESD). Using this technology, a wide variety of functional materials can be sequentially deposited on each other in a continuous process. Our process works under ambient conditions with low material consumption. In Addition, it is possible to perform a structured deposition.
We offer service coatings on a wide variety of substrates as well as machinery for your own R&D laboratory.
Highlights
ultra-thin and ultra-smooth films
continuous process
sequential deposition
ambient conditions
low material consumption
structured deposition
If you are interested in our services please contact us.